What is IONM?
Intraoperative Neuro Monitoring (IONM), is a well established surgical tool that has technologically advanced over time. IONM is a standard of care during neuro, spine and vascular procedures. It confirms reliability and validity during correction of deformities, excision of tumor and brain tissue & other procedures involving neural elements.
IONM allows the surgical team to :
Identify important neural structures in the operative field
Detect deterioration in neurological function – Sensory or Motor
Modify the procedure to avoid/reduce neurological damage
Monitor recovery of pre-existing or peri-surgical neurological abnormalities.
Thus enabling the team to provide better and safer surgical outcomes.
Our Mission
Committed to staying ahead of the curve on technology, techniques, research & developments in IONM and use the latest top of the line monitoring equipment.
Support the healthcare facility to protect the patient and help provide better and safer surgical outcomes.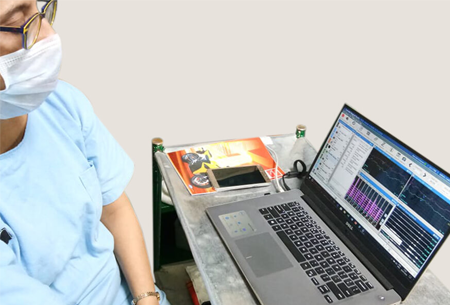 Why Choose YogiKripa IONM?
YogiKripa IONM specialists are well trained in intraoperative neurophysiological monitoring right from discussing with the surgeon on the relevant signals to be monitored, setting up the monitoring program on the system, placement of electrodes up to reporting & discussing the deviations in monitored signals.